Your No. 1 Real Estate Agents in Berlin
Guthmann Estate is more than just a real estate agency. As a renowned, family-run company with 17 years of experience in the real estate sector, we offer a service that combines quality and extensive market understanding. With these qualities behind us, we always generate the best possible result for our clients.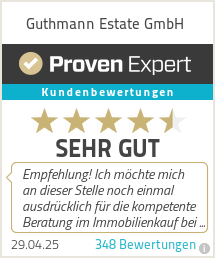 Personalized Consulting for Property Sales in Berlin: Achieving Success Through Tailored Support and Exceptional Service
Property sales require a personalized approach as each property, location, and tenant is unique. Providing tailored advice and support throughout the sales process is crucial to achieving a successful outcome. To ensure the highest level of consulting quality, we prioritize individualized attention from the initial contact to the final handover. Our team understands the importance of catering to each client's specific needs and preferences, and we strive to deliver exceptional service every step of the way.
Personalized Property Sales with Guthmann Estate: Connecting Your Property with the Ideal Buyer in Berlin
At Guthmann Estate, we believe that every property has an ideal buyer. Our mission is to ensure that your property is discovered, appreciated, and ultimately purchased by that ideal buyer. With a vast network of thousands of active and solvent search customers for apartments and a pool of carefully vetted buyers for apartment buildings in Berlin, we are well-equipped to connect your property with the right buyer. Our team at Guthmann Estate is dedicated to providing personalized service and leveraging our extensive market knowledge to optimize the sale of your property.
Transparency, Trust, and Security with Guthmann Estate: Providing Unmatched Confidence
At Guthmann Estate, we understand that as purchase prices increase, so do the expectations of buyers. That's why we don't simply offer your property for sale; we go above and beyond to create a comprehensive context, showcase its potential, and provide expert advice to potential buyers. Our market reports are carefully researched and analyzed to provide the utmost transparency and confidence for our clients. As an internationally renowned firm, Guthmann Estate's reputation for transparency, trust, and security is unmatched in the industry. 
Meticulous Documentation for Property Sales with Guthmann Estate: Ensuring Confidence and Transparency
Seamless documentation is crucial to a successful property sale, and we take this responsibility seriously. Before putting any property on the market, our team conducts a thorough review, meticulously filling in any gaps in the documentation, reading every protocol, and becoming well-versed in the declaration of partition and all relevant documents. By providing this level of attention to detail, we ensure transparency and confidence for our clients throughout the sales process.
Expert Market Reports for Berlin Real Estate: Navigating the Market.
We believe that anyone buying a property in Berlin should have access to the latest market information. That's why we offer comprehensive market reports that make you an expert, regardless of whether you buy from us or elsewhere. Rather than laboriously gathering information, our reports provide a clear overview of the market, allowing you to make informed decisions with confidence. With us you have the knowledge you need to navigate the Berlin real estate market.
Committed to Your Stability and Satisfaction Beyond the Sale.
At Guthmann Estate, we pride ourselves on our commitment to our clients, even after the sale is complete. We believe in taking care of you until your property is in a state of complete stability. Whether it's assisting with new rentals or responding to any issues that may arise, our team is dedicated to providing exceptional after-sales service. Our response times are quick, and our solutions are always efficient and to the point. With Guthmann Estate, you can trust that we will be there for you every step of the way.
Modules
Target-group addressing, detailed location and market analyses, data-based product configuration and digital marketing. We are the fuel for Berlin real estate. Since 2006. 
Agility and transparency
Time is money. You can expect the shortest response times from us. We possible, we automate processes. If you entrust us with your marketing, you will have online access to our activities. 
State of the Art
We are at the forefront of digitisation. We send the proper message on the suitable channels. We localize target groups and use the media that give us access to the buyer markets. 
Boutique Real Estate Services with a Personal Touch.
Guthmann Estate is proud to be a boutique real estate agency that offers personalized service and exceptional expertise. Our small company size allows us to provide the highest level of attention to detail and tailor our services to meet the unique needs of each client.
M.A. Peter Guthmann
Managing Director
Our management team is led by M.A. Peter Guthmann, who has a Master of Art in Communication and extensive experience in international real estate projects. Prior to co-founding Guthmann Estate in 2006, Peter worked as a journalist for Berlin radio stations and as a consultant at PricewaterhouseCoopers, IBM, and SAP.
Dipl.-Ing. Almut Guthmann
Head of operations
Heading operations is Dipl.-Ing. Almut Guthmann, an architect with years of experience in renowned offices before co-founding Guthmann Estate in 2006. Almut brings exceptional know-how and expertise to the team, with a focus on precision, calmness, and sustainability in action. Her reputation for excellence extends to both domestic and international projects.