Guthmann Estate: Always better
We seamlessly combine market research with the classic real estate business. At Guthmann Estate you get the best of all: Solid real estate craftsmanship in the areas of marketing, architecture and construction, combined with data-driven approaches and excellent research competence. Since 2006, our team of six professionals has been running one of the most successful broker agencies in Berlin. We have extensive experience in all segments and in all districts. From apartments and packages to apartment buildings. You can rely on one of the best teams in the German capital.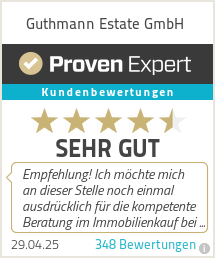 Individual consulting
There's no standard when it comes to apartment sales. Each apartment, location, equipment and each tenant is unique. The advice and support in sales must be just as individual. From the first contact to the handover, the focus is on consulting quality.
Target groups
There is always an ideal buyer for any property. Our goal is that your property is found, appreciated and bought by him or her. We have thousands of active and solvent search customers for apartments and hundreds of tested customers for your apartment building in Berlin. 
Transparency, Trust, Security
The higher the purchase prices, the higher the expectations of the buyers. We do not simply offer your property. We create a context, show the potential and advise the buyer. Our market reports are serious and create transparency. We are internationally renowned.
Seamless documentation
With us every property is thoroughly checked before sale. We fill in gaps in the documentation, read every protocol, know the declaration of partition and all relevant documents. We provide transparency.
Be an expert
Anyone who buys a property in Berlin should be familiar with the market. Instead of laboriously gathering information, we recommend that you take a look at our market report. No matter whether you buy from us or elsewhere. Our reports make you an expert.
After Sales
We never let our buyers down. Also not after the sale. We take care of you until your property is in a state of complete stability. We are also at your disposal for new rentals. Our response times are very short, our answers to the point.
Modules
Target-group addressing, detailed location and market analyses, data-based product configuration and digital marketing. We are the fuel for Berlin real estate. Since 2006. 
Agility and transparency
Time is money. You can expect the shortest response times from us. We possible, we automate processes. If you entrust us with your marketing, you will have online access to our activities. 
State of the Art
We are at the forefront of digitisation. We send the proper message on the suitable channels. We localize target groups and use the media that give us access to the buyer markets. 
Management
Focus on customers since 2006.
M.A. Peter Guthmann
Managing Director
Studied philology and communication sciences. Degree: Communication forms on the Internet. From 1992 to 1998 journalist for news and business in Berlin radio stations. From 1999 to 2006 consultant at PricewaterhouseCoopers, IBM and SAP. International real estate projects. 2006 Co-founder at Guthmann & Guthmann Immobilien. 
Dipl.-Ing. Almut Guthmann
Head of operations
From 1992 to 2005 architect in prominent offices. With excellent know-how and expertise, convincing through precision and sustainability in action. Best references in Germany and abroad. 2006 Co-founder at Guthmann & Guthmann Immobilien.